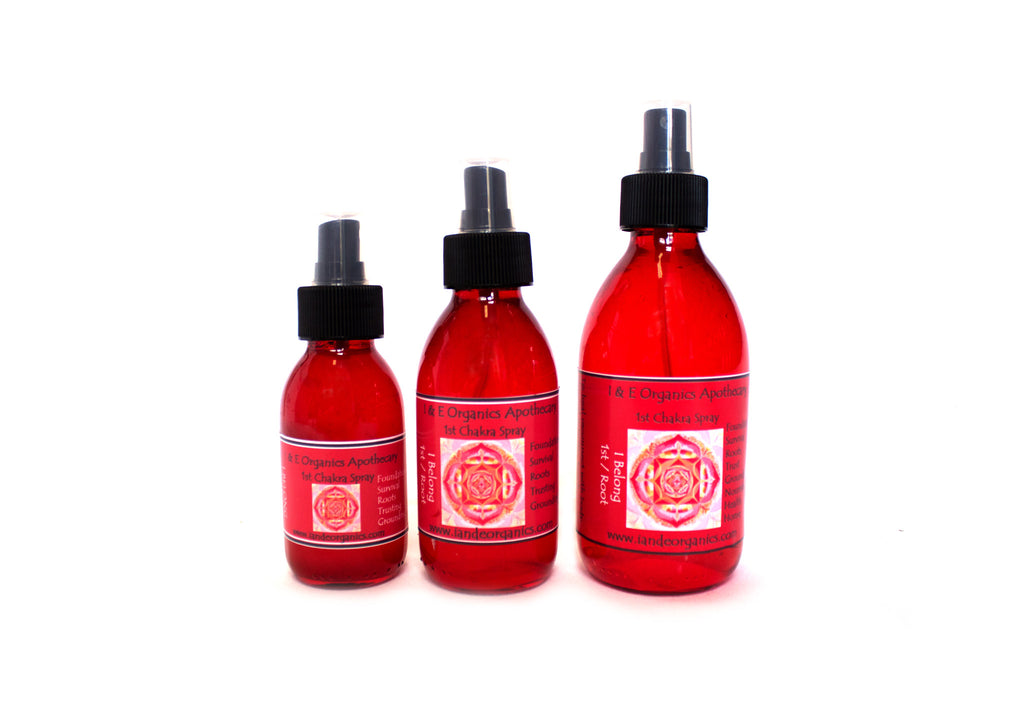 1st Chakra Spray
I AM connected to Mother Earth and know the security of being grounded in reality, in the moment.
Foundation, survival, roots, grounding, trust, nourishment, health, home, family, prosperity, appropriate boundaries.
FEAR is the challenge of the root chakra.
To heal: reconnect with body, physical activity, massage, touch, Hatha yoga, look at earliest childhood relationship to mother. Reclaim the right to be here.
Purified water, dispersa, and a proprietary blend of certified organic essential oils of
Frankincense (

Boswellia carterii) Raises low self esteem and calms anxiety.

Rosewood (Aniba roseodora) For nervous tension.
Ylang ylang (Cananga oderata) For stress and anxiety.
Vetivert (Vetiveria Zizanoides) Increases spiritual bond with Earth, brings souldful awareness of body.
and others
Gurudas flower essences in 1M homeopathic potency
Ginseng (

Panax quinquefolium) 

C

reates the strongest innermost awareness of what it means to be human.

Rose (Rosa webbiana) 

Great attunement to Earth, ability of the physical body to absorb energy through the feet

elumbo nucifera) Grounding, enhances the healing power of other remedies.
and others
Gurudas gem essences in 1M homeopathic potency
Malachite - Grounds and aligns one to Earth.
Jade - Helps re establish one's Earth connection.
Black Tourmaline - Ativates first chakra and address first chakra imbalances.
and others