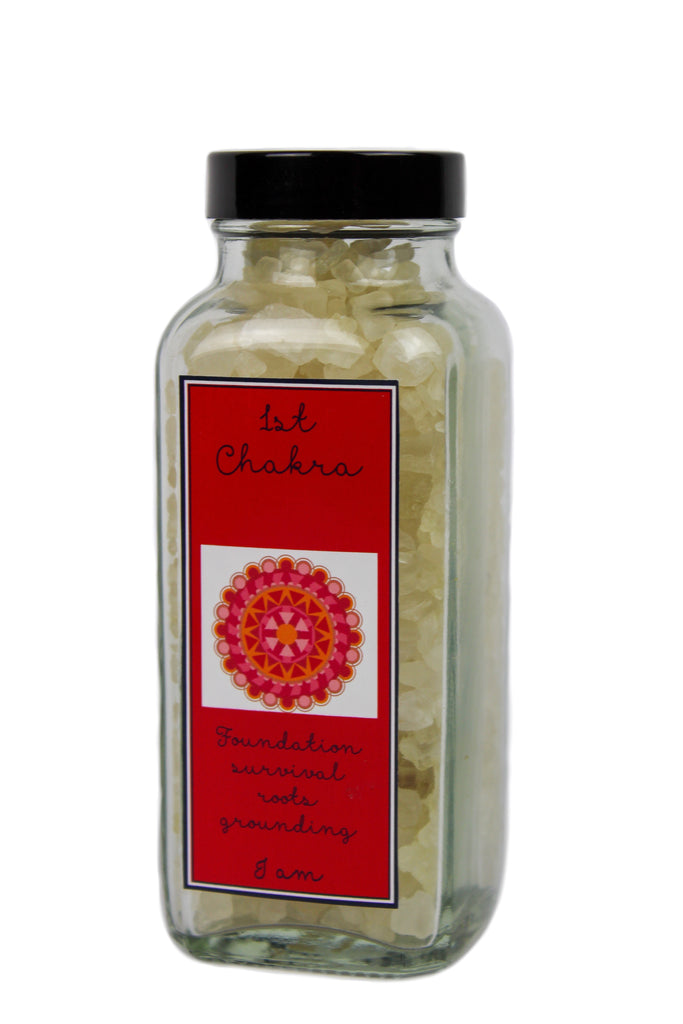 1st Chakra Bath Salts
Dead Sea Salt is filled with natural healing properties. Soaking in water enriched with sea salt from the Dead Sea is known to benefit the body by decreasing stress, treating skin conditions and detoxifying the system.
Our bath salts contain 21 naturally occurring minerals including magnesium, calcium, sulfur, bromide, iodine, sodium, zinc, potassium
Magnesium: Promotes quick healing of skin tissue and provides the skin's surface with anti-allergic elements. Also essential for cell metabolism.
Bromide: Soothes skin, relaxes body muscles, and calms nerves.
Iodine: Important for the correct functioning of the thyroid gland and is aids in the body's metabolic exchanges.
Sulfur: A natural disinfectant (constituent of certain vitamins). Known as a powerful detoxifying agent, as it works closely with the liver to rid the body of toxins.
Potassium: Helps balance moisture in the skin and body, aiding in the reduction of water retention and in the nourishment of cells. Potassium also regulates the nervous system. 
Calcium: An essential mineral, known to strengthen bones and teeth. Also strengthens cell membranes and cleanses pores. 
Sodium: Relieves stiffness and muscle cramps. Sodium is also a powerful detoxifying agent, helping cells retain nourishment and expel waste. 
Zinc: When applied topically, it is known to protect the skin against sunburn and windburn. Also known to boost the immune system. Internally, it is a key factor in enzymatic regulation of cell proliferation.
I AM connected to Mother Earth and know the security of being grounded in reality, in the moment.
1st ~ Root Chakra  ~ RED
Foundation, survival, roots, grounding, trust, nourishment, health, home, family, prosperity, appropriate boundaries.
FEAR is the challenge of the root chakra.
To heal: reconnect with body, physical activity, massage, touch, Hatha yoga, look at earliest childhood relationship to mother. Reclaim the right to be here. 
Purified water, dispersa, and a proprietary blend of certified organic essential oils of
Frankincense (Boswellia carterii) Raises low self esteem and calms anxiety.
Rosewood (Aniba rosaeodora) For nervous tension.
Ylang ylang (Cananga odorata) For stress and anxiety.
Vetiver (Vetiveria Zizanoides) Increases spiritual bond with Earth, brings soulful awareness of body.
and others 
Gurudas flower essences in 1M homeopathic potency
Ginseng (Panax quinquefolium) Creates the strongest innermost awareness of what it means to be human.
Rose (Rosa webbiana) Great attunement to Earth, ability of the physical body to absorb energy through the feet
Lotus (Nelumbo nucifera) Grounding, enhances the healing power of other remedies.
and others
Gurudas gem essences in 1M homeopathic potency
Malachite - Grounds and aligns one to Earth.
Jade - Helps re establish one's Earth connection.
Black Tourmaline - Activates first chakra and address first chakra imbalances.
and others